Our Baltimore Social Security Lawyer Discusses Consultative Examinations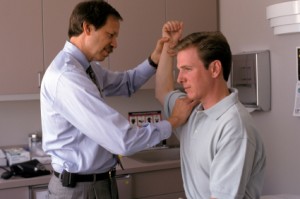 Consultative examinations and other aspects of the disability claims process can become quite overwhelming without legal representation from a knowledgeable Baltimore Social Security lawyer. When the Social Security Administration hasn't received sufficient medical evidence to make a decision regarding your claim, they will arrange for you to undergo a consultative examination. It's important to know what to expect during a consultative examination and why it is requested.
Reasons for Having Consultative Examinations
Once you've applied for disability benefits, the Social Security Administration attempts to retrieve medical records from your healthcare providers. In addition to your medical records, your doctors may also be asked to fill out questionnaires and provide additional information so that the person handling your claim can get a comprehensive understanding of the severity of your condition. A Baltimore Social Security disability lawyer can help you get the information needed to build a strong case. When the Social Security Administration doesn't get enough evidence to determine whether you qualify for disability benefits, you may be required to have a consultative examination if:
You haven't received medical treatment in the past few months
Your physician hasn't provided your medical records
Your medical reports contain conflicting information
Your physician didn't perform the specific tests that would prove you have a disabling medical condition
What Occurs During a Consultative Examination
During the consultative examination, the doctor conducts a physical exam and any specific tests requested by the Social Security Administration. The doctor will also ask questions about your medical history and symptoms or limitations that are caused by your medical condition. The consultative examination can be performed by your treating physician or a physician that has been assigned to you. After the consultative examination has been completed, the doctor will compile a medical report that lists your treatment history, laboratory test results, the findings from your physical examination, and an assessment of your ability to work. When you are being examined for a mental or physical condition, you need to be honest about your limitations and impairments. If you try to minimize or exaggerate your symptoms, it could result in a denial of your claim.
Contact a Baltimore Social Security Lawyer
If you need assistance with a Social Security disability claim, schedule a consultation with Disability Benefits, Inc. by calling  800-899-7040. An experienced Baltimore Social Security disability lawyer will evaluate your case and explain your legal options.